Project Overview:
Soundview media was established in 2009 by Gareth Allen. Gareth spent 17 years working for ITV / BBC TV and radio producing news, current affairs and factual documentary. Soundview was set up as a video production company. In the past four years the company has utilised immersive technologies to create communications for its clients. Soundview is a leading producer and developer of 360 VR video in the South West of England.
Sound View Media collaborated with the Marine Biological Association to produce an immersive virtual reality plankton experience. The VR experience aims to highlight and educate the importance of plankton to a younger audience while also showcasing the MBA's Continuous Plankton Recorder- the longest running marine research program in the world to date. The audience starts their journey aboard MBA's research vessel Sepia during a CPR survey, before going underwater with the recorder to interact with 3D images of plankton, after which they return to the MBA lab to understand more about the data gathered.
How did the MBTC Support this business?
Through collaborating with the Marine Biological Association, Sound View Media had access to expertise in the fields of plankton research, and resources such as the Continuous plankton recorder, data sources and RV Sepia. Having access to these resources through the MBTC project provided Sound View Media with confidence in the content of their product through providing microscopic images of Zooplankton-Copepods and fact checking the script while also having experienced MBA staff to operate and present the CPR recorder and lab work during filming.
Testimonial
'We really appreciate our collaboration with the MBA through the MBTC. Working with a professional team of experts and having access to the Continuous Plankton Recorder and Research vessel Sepia has helped bring our story telling to life! We are in the final stages of production and looking forward to the finished product ' – Sound View Media (Gareth)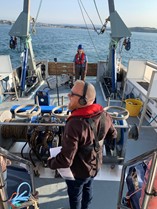 Benefits
By producing the VR Plankton experience, Sound View Media have helped raise the profile of the Continuous Plankton Recorder whilst engaging and educating a younger audience of the importance of Plankton. By providing an immersive and interactive experience, SVM have increased the accessibility of marine science during a world pandemic where physical educational experiences such as boat or lab work aren't as feasible.
Sound View Media are currently networking and engaging with schools and ocean literacy programs in the South West in the hope of integrating this product into the curriculum.
Media links
https://soundviewmedia.co.uk/virtual-reality-devon/getting-onboard-in-vr-with-the-marine-biological-association/